It's been a while peeps since I wrote anything on my blog, definitely missed it and I'm not gonna drop the ball this year. So I'm starting this year with a piece about not spending, yes you heard right, not spending, or what has become to be well known as no spend January. Anyone who knows me and knows me well had a right laugh when I told them Im not buying any clothing, bags, shoes or anything fashion related for the whole month of January. I've been known to be a spender and I cannot resist a good bargain or sale, mainly being the Zara sale, but doesn't anyone? And don't lie because I know every single woman out there was standing guard on their phones and laptops on Boxing day waiting for the sale start. I'm not gonna lie, seeing as it was still December and the thought of no spend January hadn't even crossed my mind, I did manage to do some damage. However, this year I wasn't so excited to receive my order and sadly I was disappointed when it all arrived. In normal circumstances even if I liked an item and would probably only wear it once, I would have kept it and a month later just given it away. This year was different, I thought long and hard about each item, did I even like it, would I wear it, how often would I wear it, was it worth the money and what was the cost per wear? These are things I do always consider anyway, but not as hard as this time. It was so hard to pack away all the lovely bits I had ordered, things I had been eyeing up before the sale, I had even at one point bought most of them, only to return them, knowing they would go in the sale. In the end can you believe I only kept two items, yes two items!!!!!!
For someone who does like to shop, no spend January was a huge thing to do, I didn't thing I was capable of doing it, neither did anyone else, lol! But you know what, it wasn't that hard for some reason this time round. I just didn't like anything enough to want to buy it and luckily if I did have a little look, my size or what I would have wanted was out of stock. I would put lots of stuff in my baskets, because I was allowed to look and create wish lists for when i could spend, but when i looked over what i had put in my basket, I realised I didn't need any of it or really want it and just emptied the basket or exited the site. I keep telling people when they don't believe that yes i do shop a lot, but the what you don't realise is that the majority of what i buy actually gets returned. I feel like for me that its the thrill of shopping, actually buying and receiving the items that gives me the buzz. Once I get the items, I sometimes don't even bother to open the box and have a look or even try on, it all gets sent back. Obviously once in a while I do actually stuff I really want and keep it, in those instances I have most likely sold a few bits and saved up enough to buy what I want.
Last year I watched a programme called Fashions Dirty Secrets: Stacey Dooley Investigates, and I'm not kidding it totally changed the way I looked at clothes and the fashion industry. It might sound like an exaggeration to you, but to me this was major in terms of how I now want to buy clothes, where I buy them from and how often. It made me realise that there are better things out there  to be spending my money on, of course I'm not going to stop buying clothes, this is what I do, I buy, wear and talk about fashion. The programme really put some perspective on how what we buy as consumers impacts the world around us, how what we buy and throw away effects people and the environment.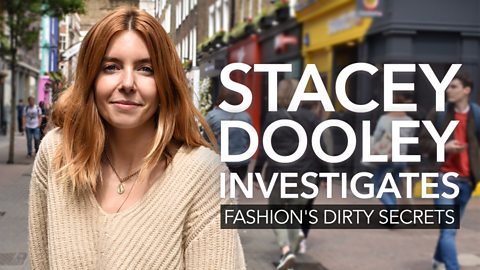 Unfortunately the programme isn't available on BBC iplayer anymore, but I have found something interesting on You Tube for you to watch https://www.youtube.com/watch?v=MgA0vbTFvvU
Im not saying that this one programme changed me overnight and my spending habits. However it definitely got me thinking and triggered no spend January and my journey of being a more responsible consumer. I realised that I spend to much money on stuff I don't actually want or need in the sales and sometimes just in general, doesn't even be clothes or shoes. I end up having a clear out every so often and give away so much stuff, good for those who are on the receiving end, but not good for my conscious or bank balance. If I want to set a good example to my family and my followers and get my husband of my back for spending to much, I need show them that life isn't just about buying stuff or having the latest stuff, especially when it comes to fashion, and yes i am well aware my main passion and subject of my blog and social media is fashion.
I want to be more careful about spending my money on throw away fashion, clothes I don't need, clothes that will last me one wash, one wear or even one season. Lets start thinking more about capsule wardrobes, classic pieces you can buy and wear forever, cost per wear, i do this anyway with expensive purchases, but I think we should do it with everything we buy. Also don't be too influenced by others, i know its so easy and we all do and I'm definitely guilty of it, But if you don't need it, don't really like it and maybe cant afford it, please think twice. I want to start being a responsibly consumer for my followers, i want to show you that if I wear or buy anything, unfortunately it wasn't gifted to me, haven't got to that stage yet, it was bought with my own money or savings, so I don't want you to go out and buy everything i wear or use, of course its your choice if you want to, but don't feel like you have to. I like to buy for you sometimes and review stuff to give you a better understanding before parting with your money.
You will be pleased to know that I stuck to my no spend January plan and it went so well I'm gonna try and continue it, maybe not have a complete ban on spending, lets be realistic I'm still me, I'm still a shopaholic, lol. Plus it's my birthday next month and I can't not treat myself!
Please let me have your comments, do you like stuff like this, should I do more of it?